Mini Wings is a program that focuses on spreading awareness of the benefits of equine-assisted activities and therapies in to the community through the use of our miniature horses Stormy, Tinkerbelle and Tigerlily. Stormy visits WVU Children's Medicine once a month as well as local area nursing homes and libraries on a regular basis. Tinkerbelle and Tigerlily have a partnership with Skyview Elementary in Monongalia County that challenges first-graders to improve their reading skills!
Stormy, in her attempt to become a media darling, has posted a Facebook page called  "Stories with Stormy". She posts updates on a regular basis. Follow this link to become a fan and part of her fun adventures! https://www.facebook.com/StorieswithStormy/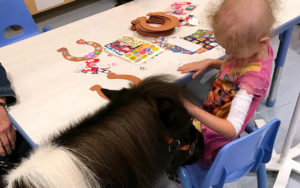 Contact us if you have a program that could use some "mini" help!