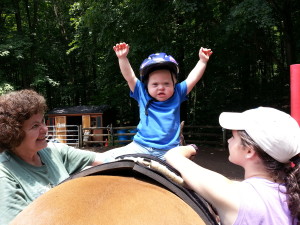 As we go headin' on down the trail…
On Eagles' Wings accepted our first riders in September of 2007 as a 501(c)(3) nonprofit organization. All professionals involved in our programs have been trained and certified though Professional Association of Therapeutic Horsemanship International (PATH Intl.) and the American Hippotherapy Association (AHA).
Our mission is to provide a safe environment for individuals with disabilities, enabling them to enrich and enhance their lives through equine assisted activities and therapies.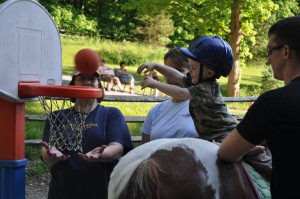 Why The Horse
The three-dimensional movement of the horse mimics the human walk. The corrective stimulation and exercise from this movement profoundly affects the physical, cognitive, sensory and vestibular systems, which in turn can create abilities in a person with a disability to accomplish things previously not thought possible.
The horse is also a tremendous motivator. Horses and humans together often create a natural bonding relationship. Participants have been known to say their first words, or have taken their first steps because of the powerful influence of the horse. Plus, it is just plain fun!
Disabilities we help
Our participants include children and adults with physical, cognitive, emotional, and social disabilities and challenges. Disabilities Served: ADD or other Hyperactivity Disorder, Amputee, At Risk Youth, Autism Spectrum Disorder, Cerebral Palsy, Developmental Delay or Disability, Down Syndrome, Genetic Conditions/Disorders, Head Trauma/Brain Injury, Hearing Impairment, Intellectual Disability, Learning Disability, Multiple Sclerosis, Muscular Dystrophy, Orthopedic, Paralysis, Post Traumatic Stress Disorder, Speech Impairment, Spina Bifida, Spinal Cord Injury, & Stroke.
Download our brochure: On Eagles' Wings Brochure