Volunteers are the backbone of our organization and we appreciate all of the helping hands in our community. Help give a child or adult with a disability 60 minutes of life altering therapy. No prior horse experience needed! Learn to groom and tack horses and assist with lessons, giving someone else the chance to be independent for the first time in their lives!
What does it take to be an OEW Volunteer?
Volunteers must be able to work independently with minimal staff supervision. The required age for unsupervised volunteers is 14.
Volunteering in the program, barn and/or facility involves moderate physical activity. Please be sure you are comfortable with the physical aspects of the role you select on our volunteer form.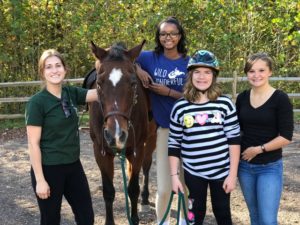 Volunteer Jessica Gerard sums up volunteering best: "The children are what make this volunteer opportunity so rewarding. It is truly special to be apart of something that helps them so much. I am forever thankful of my time here at On Eagles' Wings!"
Application:
Download the 2019 OEW Volunteer Form
Volunteer Training Information:
All of our volunteers are required to go through a thorough training to learn what is expected of our volunteers during therapeutic and hippotherapy lessons.
Email (oneagleswingswva@gmail.com) or call us (304-288-9748) to let us know of your interest in volunteering! We will arrange for a private tour and training throughout the riding season.