WVU Mountaineers involved with Therapeutic Horsemanship
On Eagles' Wings Therapeutic Horsemanship Center is the home of West Virginia University's equine studies minor in equine-assisted activities and therapies. WVU's rapidly growing equine studies minor features three tracks of study in the Davis College of Agriculture, Natural Resources, and Design. They include equine science, equine management and equine-assisted activities and therapies. WVU Students learn firsthand how to work with horses and people with disabilities, and can complete coursework with the goal of becoming a PATH International therapeutic riding instructor or equine specialist.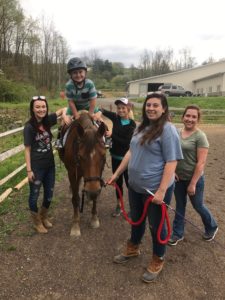 Many other undergraduate and graduate students volunteer with On Eagles' Wings as part of their service learning or community service projects.